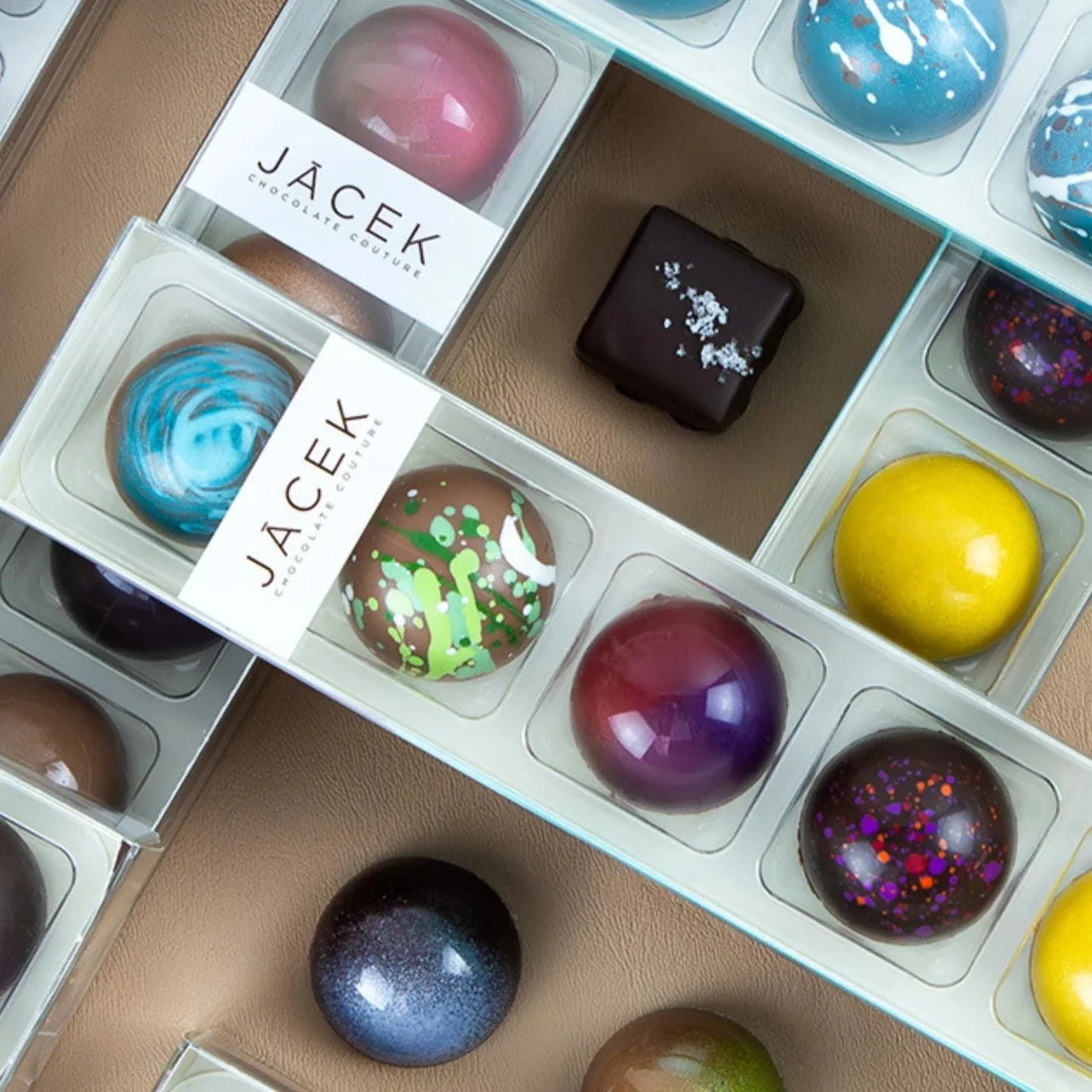 Discover delightful chocolates in each of our assorted bonbon boxes! Choose from boxes of 6, 12, 18, or 24 for the perfect treat.
If you have any special dietary needs (no nuts, vegan, milk, dark), please add them as a note at checkout!
This product is best enjoyed within two weeks of delivery. Please store in dry, cool place.
Flavours |

Earl Grey: Bergamot forward tea infused ganache in a classic milk chocolate bonbon.
Key Lime: Tart lime infused in a creamy ganache in a milk chocolate shell, reminiscent of a citrus tart.
Columbia: 70% dark chocolate made from JACEK's single-origin bean-to-bar chocolate. (vegan friendly)
Almond Praline & Raspberry: Toasted almond praline topped with fruity raspberry ganache for a perfectly balanced bite. (contains tree nuts)
Cafe de Olla: Central America inspired, an espresso ganache kissed with spices and a hint of orange in dark chocolate. (vegan friendly)
Vanilla Bean: Aromatic Bourbon vanilla bean in a milk chocolate shell.
Creamy Milk Chocolate: A classic but irresistible bonbon with milk chocolate ganache in a milk chocolate shell. 
Salted Burnt Caramel:  Perfectly blackened caramel laced in milk chocolate with a sprinkling of sea salt.
Hot Chocolate: Creamy milk chocolate ganache topped with dreamy marshmallow reminiscent of the classic hot drink.
Almond & Hazelnut Praline: Creamy milk chocolate shell filled with nutty goodness.
Apres Eight: A classic redesigned with refreshing peppermint ganache enrobed in dark chocolate.
Cinnamon Bun: A bonbon with warm notes of cinnamon and the sweetness of cream cheese.
Oozy Espresso Caramel: Caffeine laced caramel in a sumptuous dark chocolate shell.
Swiss Fondue: White wine & gruyere infused ganache encased in a dark chocolate for a true alpine experience.
Salted Caramel: Caramel enrobed in 62% dark chocolate and sprinkled with the finest sea salt. 
Spiced Poached Pear: Wine poached pear with ginger, cinnamon & vanilla bean encased in milk chocolate.
Words: Creamy milk chocolate.
If, for any reason, you are unsatisfied with your purchase, we are pleased to offer our customers 10 days after purchase to exchange or receive store credit on the returned items.
All items must be unused and have original packaging and tags attached.
All custom furniture & window covering orders, floral, greenery, live plants and items 20% off or more are final sale.
Non custom furniture that is returned due to non-damage or defect related reasons will be subject to a 20% restocking fee.
Shipping/delivery fees are final sale, and non-refundable.
Please see our Returns & Exchanges page for all the details.
Simone & Ivy is proud to offer shipping on all Home Decor, Marketplace & Gift items online across Canada! Furniture, Wall Decor & Mirrors, Rugs and Lighting are available for local delivery or in store pick up only.
Our retail store and warehouse is located in Alberta, Canada. Applicable taxes to the province the items are being shipped to will be charged. We do not ship to PO boxes.
Most in-stock items will be shipped in 2-3 days from our local warehouse in Edmonton. Shipment of pre-ordered items will vary between 4-16 weeks.
Please see our Shipping & Delivery page for all the details.
Delicious !
Beautifully handcrafted , delicious , and fresh ! Will purchase again …and again !